Current Projects
East Young Street Sidewalk, Phase 2
The purpose of this project is to improve walkability between Rolesville High School and downtown Rolesville.
This project involves the construction of a sidewalk along East Young Street from Virginia Water Drive to Quarry Road. The new sidewalk will connect with existing sidewalk on the...
Updated: Wednesday, September 4, 2019 - 10:07am
Granite Falls Boulevard Extension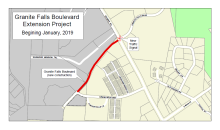 This $2.02 million project will construct a quarter-mile extension of Granite Falls Boulevard between Rogers Road and Grand Rock Way. There will be one lane of travel in each direction, and sidewalks will be installed on both sides of the road.
Project designs include bicycle lanes for...
Updated: Wednesday, September 4, 2019 - 10:04am