Strategic Plan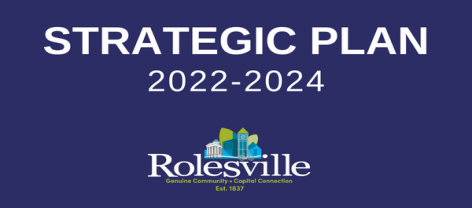 On March 17, 2020 the Town Board unanimously adopted a Strategic Plan for 2020-2022. This plan will serve as a guide for policy and decision-making by elected officials and staff for the next two years. December 2022 the Strategic Plan was updated for 2022-2024.
The plan sets out a long-term Vision Statement for the community, as well as four Key Focus Areas. Each Key Focus Area includes four Goals which will help bring about the community's long-term vision.
Staff Progress Report - August 2021
Vision Statement
Genuine community thrives in Rolesville as we seek to build a place that is focused on walkability, with connections to parks, greenways, and gathering spaces.
Rolesville has a rich history and a genuine community feel that makes our town unique. Neighbors connect with each other at recreation programs and local parks, and they use playgrounds and trails throughout the year. It is a safe place to live, and quality planned communities offer a wide variety of home styles and price choices. The vision for a charming downtown features areas to walk to quaint coffee shops, breweries, and locally owned shops. Several times a year the Town attracts regional visitors to annual events, concerts, and festivals. Mixed use land development along the downtown core makes Main Street a genuine destination. All of this is within a short drive to the Capital City – Raleigh.
Key Focus Areas & Goals